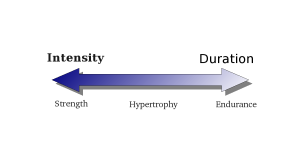 It's a commonly accepted tenet that resistance training adaptations follow a "strength-endurance continuum" whereby lifting heavy loads maximizes strength increases while light load training leads to optimal improvements in local muscle endurance. Conventional wisdom also postulates that at least moderately heavy loads are required for building muscle. General training guidelines proclaim that loads lighter than about 65% 1RM are insufficient to stimulate fast-twitch muscle fibers necessary for growth. The so-called "hypertrophy range" is generally considered to be 6-12 reps/set.
Recent research has challenged these established tenets. It has been proposed that if light loads are lifted to muscular failure, near-maximal recruitment of fast-twitch fibers will occur resulting in muscular adaptations similar to those obtained from training heavy.
Here is the rest of this interesting article!